Canadian New Home Construction August 2016
New home construction activity in Canada continues to be one of the healthiest components of the national economy. Housing starts have defied predictions of a soft landing, and national housing starts throughout the first seven months of the year have trended around 200,000 annual units (chart 1).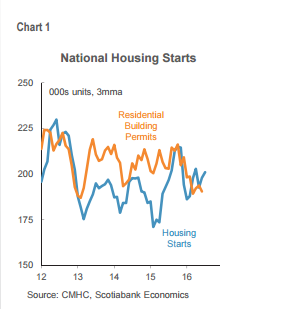 The trend in building permits is only modestly lower at 190,000 units, pointing to continued strong activity over the remainder of the year. Housing starts are now expected to total approximately 195,000 units this year, very similar numbers to 2015.
British Columbia Leads
As with virtually all national economic indicators, there is a big and obvious regional divide in residential construction. British Columbia is the strongest province, with housing starts averaging a record-setting 44,000 annualized units this year, a 40% jump over 2015. While led by multi-unit construction (both condos and purpose-built rentals), single-family home construction also has picked up. B.C.'s residential construction boom extends beyond Vancouver and the Lower Mainland into other parts of the province, including Kelowna and Victoria. As of the date of this article, full impact of the new offshore resident tax, which was announced on July 25, has not yet been assessed.
Continued Strength in Ontario
Multi- and single-family construction also has picked up pace in Ontario this year. However, at an annualized 76,000 units year-to-date, the overall level of housing starts remains shy of a record. Activity remains extremely strong in Toronto, but a considerable amount of momentum has shifted to lower priced localities, including Hamilton, St. Catharines, Kitchener, Guelph, and London.
Alberta Home Construction Stabilizing
Construction activity in Alberta is showing early signs of stabilizing, although at levels well below historic averages. Provincial starts have totaled just 24,000 annualized units year-to-date, their lowest level since 2009, with notable pullbacks in both Calgary and Edmonton.
Activity in most other parts of the country remains relatively steady. There are signs of overbuilding in a few provincial markets, notably in Alberta, Saskatchewan and Newfoundland where home sales have slowed. For the most part, however, there is little evidence of any serious inventory problems.
Despite ongoing high levels of home construction activity, unsold housing inventory as a share of the adult population remains consistent with historical averages (chart 2).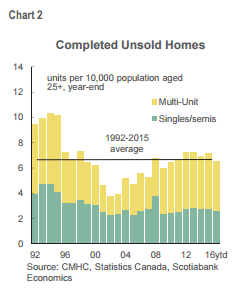 Absorption rates of recently completed units remain healthy and stable. The continued strength in new and resale home prices is also indicating a lack of any glut in supply. Historic low borrowing costs, relatively healthy job market conditions and solid population gains
should continue to support housing demand and residential construction in B.C. and Ontario.
Builder Confidence
Builder confidence is being bolstered by strong resale and new home sales, tight supply and rising home prices. The average price of new single- and semi-detached homes has jumped 15% in Vancouver, and 8% in Toronto, over the past year. To the extent that tight supply is contributing to surging home prices in these two high-priced markets, the increase in new home construction is a welcome development. At the same time, rising unemployment,
inter-provincial population outflows, increased housing supply and a soft pricing environment weigh against a near-term recovery in Alberta, notwithstanding rebuilding activity related to the devastating May wildfires in the Fort McMurray area.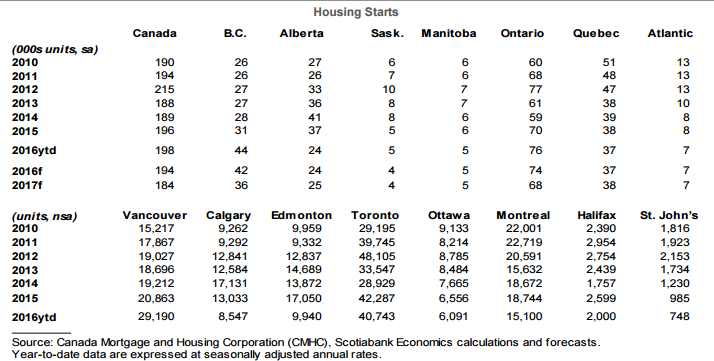 with files from Scotiabank & CMHC